Trailer - "CATNIPPED V"
"CATNIPPED V"

Carmen Porta is purrrfect once again, reprising her role as Catwoman. This time, she hits a jewelry store and makes off with millions in diamonds. But her hapless assistant expects to receive half the booty, and when Catwoman refuses, things become a CAT-aclysmic CAT-astrophe (sorry, we just had to) for her.

Carmen Porta turns in another of her usual, brilliant performances, and Gia Diablo plays the doltish thug to a tee. As for action, this clip also has the whole Kitten Kaboodle (there we go again), including a full-body throatlift, great stunts and a few impressive strength moves by Gia!

Starring Carmen Porta and Gia Diablo.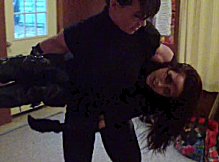 Release:
December 16, 2015
Genre:
SuperVillians
Category:
Female Combat
Clip Length:
16:20
Total Time:
18:54
Format:
WMV (802 MB)
Gia Diablo & Carmen Porta
Price:
$16.99
Details:
Kicks, head & stomach punches, knees • Full-body Throatlift • Choking • Scissorhold • Ground Pound • Feats Of Strength • Setup music only
---
** IMPORTANT **
After making payment at PayPal, you will be
re-directed to the download page for this video.
Or, if prompted, click "Return to FightGirlz2000"
---
Click here for our other releases...