Trailer - "THE CROWN XIII"
"THE CROWN XIII"

Our popular "CROWN" series continues with the thirteenth release of this popular series.

After her defeat by Tough Girl Terri in "The Crown XII", Badass Betty works hard to improve her speed and strength, and sets up a rematch with Terri to avenge her loss. But Terri fails to show up for the contest, and Betty is instead confronted by Tommy The Tiger, who expresses little fear of losing to Betty. Feeling confident in her newfound skills, Betty agrees to take him on.

What results is a tremendous back-and-forth affair that looks like it could go either way.

Starring Malika Ioana and Kyle Brady.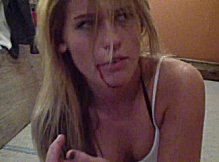 Release:
November 19, 2015
Genre:
Action
Category:
Mixed Combat
Clip Length:
15:19
Total Time:
16:41
Format:
WMV (737 MB)
Malika Ioana
Price:
$15.99
Series Arc:
The Crown | The Crown II | The Crown III | The Crown IV | The Crown V | The Crown VI | The Crown VII | The Crown VIII | The Crown IX: Rematch | The Crown X | The Crown XI | The Crown XII | The Crown XIII | The Crown XIV
Details:
Kicks, head & stomach punches, elbows, knees • Throatlift • Ground Pound • Bearhugs • Scissorhold • Choking • Setup Music Only
---
** IMPORTANT **
After making payment at PayPal, you will be
re-directed to the download page for this video.
Or, if prompted, click "Return to FightGirlz2000"
---
---
Click here for our other releases...