Trailer - "THE FORMULA X"
"THE FORMULA X"

In this awesome tenth release of our popular "Formula" series, a chemist is determined to create a super-strength formula to help protect her bullied niece, but decides to test the formula on one of her best friends. But things quickly go awry, and what follows is a great battle for supremacy between the two when the chemist drinks her own potion as well.

This one has something for everyone, including feats of strength, a great throatlift, ground pound, lots of flexing by Alchemy, and more! And both Girlz turn in great performances!

Starring Alchemy and Sasha Hammar.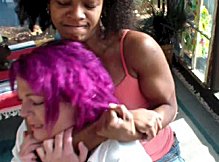 Release:
November 22, 2017
Genre:
Action/SciFi
Category:
Female Combat
Clip Length:
18:40
Total Time:
22:32
Format:
WMV (1 GB)
Sasha Hammar & Alchemy
Price:
$18.99
Details:
Kicks, head & stomach punches, knees • Ground Pound • Choking • Throatlift • Feats Of Strength • Flexing
Episode Arc:
Click here for other episodes of "The Formula"
---
** IMPORTANT **
After making payment at PayPal, you will be
re-directed to the download page for this video.
Or, if prompted, click "Return to FightGirlz2000"
---
Click here for our other releases...