Trailer - "THE FORMULA IX"
"THE FORMULA IX"

In this ninth release of this popular series, a year has passed since Carmen stole her friend's super-strength formula, and the laboratory has now become Carmen's place of business for black market distribution of that formula. But on this day, she suddenly gets a call from a new mystery customer who offers to pay triple to get the juice. Reluctantly, Carmen agrees. Events to follow put Carmen in fear of jeopardizing her operation.

This one has something for everyone, including feats of strength, multiple throatlifts, multiple ground pound, scissorholds, multiple bearhugs, flexing and more! And both Girlz turn in great performances!

Starring Carmen Porta and Aubrey Michaels.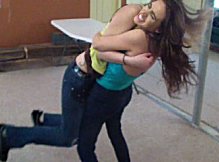 Release:
January 19, 2017
Genre:
Action/SciFi
Category:
Female Combat
Clip Length:
17:44
Total Time:
20:13
Format:
WMV (898 MB)
Aubrey Michaels & Carmen Porta
Price:
$17.99
Details:
Kicks, head & stomach punches, knees • Multiple Ground Pounds • Choking • Multiple Throatlifts • Scissorholds • Feats Of Strength • Multiple Bearhugs • Flexing
Episode Arc:
Click here for previous episodes of "The Formula"
---
** IMPORTANT **
After making payment at PayPal, you will be
re-directed to the download page for this video.
Or, if prompted, click "Return to FightGirlz2000"
---
Click here for our other releases...