Trailer - "FINDERS KEEPERS"
"FINDERS KEEPERS"

Two cab drivers on a slow day decide to open up an unclaimed bag after it's been sitting in the hub for two weeks. After discovering that there's a significant amount of cash inside, the drivers dispute over how to divide it.

Once again, great action by both Girlz in this one, gang. Including some scrappy, real competitive wrestling and the usual non-stop action.

Starring Carmen Porta and Alexis Hart.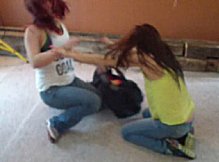 Release:
November 29, 2016
Genre:
Action
Category:
Female Combat
Clip Length:
16:25
Total Time:
17:56
Format:
WMV (802 MB)
Alexis Hart & Carmen Porta
Price:
$16.99
Details:
Kicks, head & stomach punches, knees • Ground Pound • Choking • Full-Body Throatlift • Scissorhold • Bearhug • Real Competitive Wrestling • Setup Music Only
---
** IMPORTANT **
After making payment at PayPal, you will be
re-directed to the download page for this video.
Or, if prompted, click "Return to FightGirlz2000"
---
Click here for our other releases...