Trailer - "PRELUDE"
"PRELUDE"

An alien warrior is sent to Earth to disable the world's entire power grid as a prelude to a full-scale invasion. But his nemesis LaCheetah, from a neighboring planet, is quickly dispatched to stop him before he can carry out his mission.

Pro wrestler Colonel X, a good friend of Gia's, joins the fun as alien warrior Blue Panther, and the many resulting pro-style wrestling scenes (combined with our usual combat choreography) makes for a rousing - and fun - release. And both Gia and the good Colonel developed this story and authored the script together!

Starring Gia Diablo and Colonel X.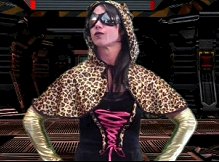 Release:
February 19, 2016
Genre:
Supervillainess
Category:
Mixed Combat
Clip Length:
15:40
Total Time:
17:41
Format:
WMV (740 MB)
Gia Diablo
Price:
$15.99
Details:
Kicks, head & stomach punches, elbows, knees • Ground Pound • Scissorhold • Choking • Throatlift • Bearhug • Pro-Style Wrestling • Setup Music Only
---
** IMPORTANT **
After making payment at PayPal, you will be
re-directed to the download page for this video.
Or, if prompted, click "Return to FightGirlz2000"
---
Click here for our other releases...