Trailer - "RANSOM V"
"RANSOM V"

A famous movie star's wife is kidnapped for ransom, and the fiesty victim does not take kindly to the abduction. Freeing her bonds, the victim takes on the kidnapper in a desperate attempt to escape her captor before the ransom is paid.

Awesome performances by both Girlz in this one, folks, and the combat between the two is both brutal and fast-paced.

Starring Carmen Porta and Lee Diamond.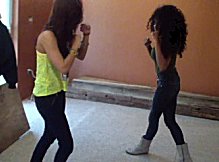 Release:
December 1, 2015
Genre:
Action
Category:
Female Combat
Clip Length:
18:36
Total Time:
19:53
Format:
WMV (884 MB)
Carmen Porta & Lee Diamond
Price:
$18.99
Details:
Kicks, head & stomach punches, knees • Bearhug • Scissorhold • Ground Pound • Lite Music Only
---
** IMPORTANT **
After making payment at PayPal, you will be
re-directed to the download page for this video.
Or, if prompted, click "Return to FightGirlz2000"
---
---
Click here for our other releases...