Trailer - "RETRIBUTION"
"RETRIBUTION"

A homicide detective is assigned a case that quickly becomes personal when she learns the victim is someone close to her heart. She soon hunts down her suspect and is pleased to discover that her quarry has no intention of being taken in without a fight.

But the detective quickly learns that the perpetrator is more than a match for her own skills. Does she have what it takes to finally make the arrest?

Starring Eva Montana and Malika Ioana.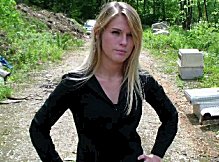 Release:
June 4, 2015
Genre:
Action
Category:
Female Combat
Clip Length:
15:24
Total Time:
18:05
Format:
WMV (778 MB)
Malika Ioana
Price:
$15.99
Details:
Kicks, head & stomach punches, knees • Choking
---
** IMPORTANT **
After making payment at PayPal, you will be
re-directed to the download page for this video.
Or, if prompted, click "Return to FightGirlz2000".
---
---
Click here for our other releases...