Trailer - "SUPERGURL X: DEFEATED"
"SUPERGURL X: DEFEATED"

In this tenth episode of our popular SuperGurl series, things go from bad to worse for our superheroine.

After defeating Taryn Jinn in Episode 9, SuperGurl is confronted by Sarin Mau, who has been dispatched by Taryn to seek revenge by re-capturing Supergurl and returning her to their alien ship. Determined not to be re-captured, SuperGurl draws on all of her skill, strength and experience to vanquish her attacker. But will it be enough?

Once again, we see some awsome strength feats by Whitney - including another lengthly, incredible full-body throatlift - some great combat choreography, intense action, and more.

Starring Carmen Porta and Whitney Rose.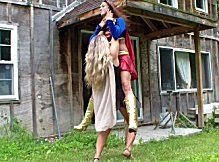 Release:
July 21, 2016
Genre:
Superheroine
Category:
Female Combat
Clip Length:
11:14
Total Time:
12:54
Format:
WMV (584 MB)
Whitney Rose & Carmen Porta
Price:
$11.99
Details:
Kicks, head & stomach punches, knees • Ground Pound • Choking • Extended Full-Body Throatlift • Bearhug • Scissorhold • Peril
Series Arc:
---
** IMPORTANT **
After making payment at PayPal, you will be
re-directed to the download page for this video.
Or, if prompted, click "Return to FightGirlz2000"
---
Click here for our other releases...