Trailer - "SUPERGURL XI: Vengeance of Jor-Dan"
"SUPERGURL XI: Vengeance of Jor-Dan"

In this eleventh episode of our popular and continuing SuperGurl series, our heroine is confronted by none other than the dastardly Jor-Dan, another criminal from SuperGurl's former planet Krypton.

In the presence of Earth's yellow sun, Jor-Dan's powers are equal to those of SuperGurl, and he intends to use them to rule the planet. The only obstacle to his plan is SuperGurl, whom he intends to eliminate by using her greatest weakness against her.

Once again, we see some awesome strength feats by Carmen - including a surprising bearhug and another full-body throatlift. This release also contains some great combat choreography, intense action, and more.

Starring Carmen Porta and Brian Socia.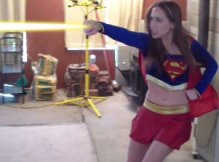 Release:
April 3, 2017
Genre:
Superheroine
Category:
Female Combat
Clip Length:
9:12
Total Time:
11:32
Format:
WMV (490 MB)
Carmen Porta
Price:
$9.99
Details:
Kicks, head & stomach punches, knees • Ground Pound • Choking • Multiple Full-Body Throatlifts • Multiple Bearhugs • Scissorhold • Peril
Series Arc:
---
** IMPORTANT **
After making payment at PayPal, you will be
re-directed to the download page for this video.
Or, if prompted, click "Return to FightGirlz2000"
---
Click here for our other releases...