Trailer - "SUPERGURL VIII: RETURN TO TALOS"
"SUPERGURL VIII: RETURN TO TALOS"

After finally escaping her captors in Episode 7, SuperGurl returns to Earth only to find that her relentless pursuers have tracked her down once again, and this time SuperGurl is met with her most formidable opponent yet, one who is more than capable of dishing out as much as she takes. Has SuperGurl finally met her match?

Great performances by both Girlz in this one, with awesome combat choreography and intense, back and forth action.

Starring Carmen Porta and Monique Lavallee.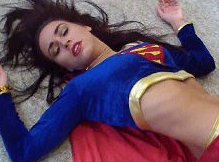 Release:
November 10, 2015
Genre:
Superheroine
Category:
Female Combat
Clip Length:
15:22
Total Time:
18:29
Format:
WMV (824 MB)
Carmen Porta
Price:
$15.99
Details:
Kicks, head & stomach punches, knees • Ground Pound • Choking • Scissorhold • Feats Of Strength • Throatlift • Bearhug • Peril
Series Arc:
SuperGurl | SuperGurl II | SuperGurl III | SuperGurl IV | SuperGurl V | SuperGurl VI | SuperGurl VII
---
** IMPORTANT **
After making payment at PayPal, you will be
re-directed to the download page for this video.
Or, if prompted, click "Return to FightGirlz2000"
---
Click here for our other releases...