Trailer - "SUPERGURL IX: RETURN OF TARYN JINN"
"SUPERGURL IX: RETURN OF TARYN JINN"

Our SuperGurl series continues, and this time we're treated to a re-match between SuperGurl and Taryn Jinn.

After finally escaping her captors in Episode 8, SuperGurl returns to Earth only to find that her old nemesis Taryn Jinn (from Episode 6) has tracked her down once again. Determined not to be re-captured, SuperGurl draws on all of her skill, strength and experience to vanquish her attacker. But will it be enough?

Once again, we see some awesome strength feats by Gia - including another lengthy, full-body throatlift - some nifty combat choreography, and intense action.

Starring Carmen Porta and Gia Diablo.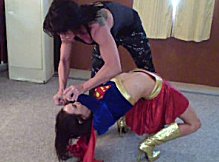 Release:
February 19, 2016
Genre:
Superheroine
Category:
Female Combat
Clip Length:
13:26
Total Time:
15:55
Format:
WMV (683 MB)
Gia Diablo & Carmen Porta
Price:
$13.99
Details:
Kicks, head & stomach punches, knees • Ground Pound • Choking • Feats Of Strength • Full-Body Throatlift • Bearhug • Peril
Series Arc:
---
** IMPORTANT **
After making payment at PayPal, you will be
re-directed to the download page for this video.
Or, if prompted, click "Return to FightGirlz2000"
---
Click here for our other releases...