Trailer - "THE HEIST"
"THE HEIST"

A tough-as-nails government agent is tasked to solve a bank heist that occurred only hours ago. She eventually confronts the accused, a familiar foe with whom she has tangled in the past. What follows is a back and forth brawl that concludes when one of the combatants eventually overcomes her adversary, but perhaps by questionable means.

Great combat action in this one gang, along with some slick dialogue delivery by both Girlz. It's also great to have Carmen Porta in front of our cameras once again!

Starring Carmen Porta and Monique Lavallee.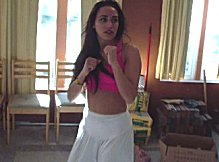 Release:
October 24, 2015
Genre:
Action
Category:
Female Combat
Clip Length:
15:33
Total Time:
17:55
Format:
WMV (784 MB)
Carmen Porta
Price:
$15.99
Details:
Kicks, head & stomach punches, elbows, knees • Extended Bearhug • Martial Arts moves • Scissorhold • Brutality
---
** IMPORTANT **
After making payment at PayPal, you will be
re-directed to the download page for this video.
Or, if prompted, click "Return to FightGirlz2000"
---
Click here for our other releases...