Trailer - "THROATLIFTS - Vol. 6"
"THROATLIFTS - Vol. 6"

By popular demand, we have produced our fifth throatlifting compilation video!

"THROATLIFTS - Vol. 6" is comprised of great throatlifting scenes from over 30 of our videos, and includes the real, full-body center-room throatlift scenes we've been doing of late. Look for more of these compilation clips, including bearhugs, scissorholds, real competitive wrestling, flexing, armwrestling, belly punching, great KOs and more, all available in our "Compilations" section!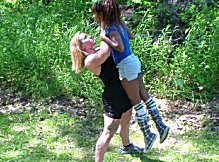 Release:
Novermber 30, 2017
Genre:
Compilations
Category:
Throatlifts
Clip Length:
19:34
Total Time:
20:16
Format:
WMV (926 MB)
Alexis Hart & Carmen Porta
Price:
$19.99
Details:
Series:
CLICK HERE for more FightGirlz2000 Compilation Videos
---
** IMPORTANT **
After making payment at PayPal, you will be
re-directed to the download page for this video.
Or, if prompted, click "Return to FightGirlz2000"
---
---
Click here for our other releases...