Trailer - "UNFAITHFUL"
"UNFAITHFUL"

A two-timing husband is caught cheating on his diminutive wife, who exacts her revenge by dishing out a huge barrage of strikes and kicks, courtesy of kickboxing lessons - paid for by her husband!

Awesome one-sided action in this one gang, and Lee is up to the task given her real-life kickboxing background.

Starring Lee Diamond and David Jordan.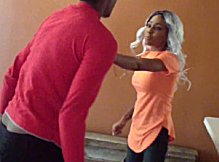 Release:
December 13, 2015
Genre:
Action
Category:
Mixed Combat
Clip Length:
14:27
Total Time:
16:31
Format:
WMV (738 MB)
David Jordan & Lee Diamond
Price:
$16.99
Details:
Kicks, head & stomach punches, elbows, knees • Ground Pound • Scissorhold • Choking • Blood & Bruising
---
** IMPORTANT **
After making payment at PayPal, you will be
re-directed to the download page for this video.
Or, if prompted, click "Return to FightGirlz2000"
---
---
Click here for our other releases...