Trailer - "TITANS"
"TITANS"

In this custom-ordered video, two superheroines, unaware of each other's true identity, discuss the virtues of each, until the discussion escalates into an all-out brawl. Soon, each reveals her true identity to the other, and a test of strength, superpower and stamina ensues as each attempts to prove which one is truely the best.

Finally, we have managed to pair these two in a battle for the ages! Lots of twists and turns in this power-packed, spinach-fueled clip, and neither girl disappoints! Neither does the finished product - this one has something for everyone!

Starring Gia Diablo and Atillah Hunn.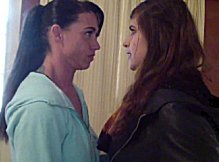 Release:
October 28, 2015
Genre:
Superheroine
Category:
Female Combat
Clip Length:
17:27
Total Time:
19:30
Format:
WMV (855 MB)
Gia Diablo & Atillah Hunn
Price:
$17.99
Details:
Kicks, head & stomach punches • Elbows & knees • Extended Bearhug • Rear and Frontal Throatlifts • Ground Pounds • Strength Moves • Flexing & Posing • Scissorhold
---
** IMPORTANT **
After making payment at PayPal, you will be
re-directed to the download page for this video.
Or, if prompted, click "Return to FightGirlz2000"
---
Click here for our other releases...