Trailer - "SUPERGURL XII: The Pernicious Parasite"
"SUPERGURL XII: The Pernicious Parasite"

In this custom-ordered, 12th episode of our popular SuperGurl series, we welcome back Stevie Fox as a villianess who is seeking out radioactive isotopes that contain elements that are designed to absorb the strength of any living thing and transfer it to herself. Needless to say, she greedily plots to lure SuperGurl to her directly in order to extract all of her superheroine strength.

Once SuperGurl's strength is absorbed, she is at the mercy of her attacker, suffering numerous series of blows, a crushing bearhug and scissorhold, and an extended full-body throatlift. Will SuperGurl survive the attack, or will she succumb to her increasingly powerful foe?

Great action in this one, gang, and Stevie Fox turns in a remarkably bnrilliant performance as the villianess Isis Harrah.

Starring Carmen Porta and Stevie Fox.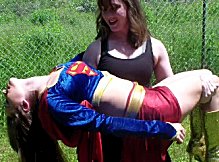 Release:
June 17, 2017
Genre:
Superheroine
Category:
Female Combat
Clip Length:
17:22
Total Time:
21:16
Format:
WMV (911 MB)
Carmen Porta & Stevie Fox
Price:
$17.99
Details:
Kicks, head & stomach punches, knees • Ground Pound • Choking • Full-Body Throatlift • Lift & Carry • Bearhug • Scissorhold • Peril
Series Arc:
---
** IMPORTANT **
After making payment at PayPal, you will be
re-directed to the download page for this video.
Or, if prompted, click "Return to FightGirlz2000"
---
Click here for our other releases...